DESIGNER SHOWHOUSE SARASOTA  – THE BIG REVEAL
In my last blog (Carte Blanche – Why Designer's LOVE to Donate Design for a Showcase House), I talked about the Jewels on the Bay 2020 Designer Showhouse that Willow & August Interiors was preparing for (here in Sarasota).
The event benefits The Boys & Girls Club of Sarasota County and runs March 15th through April 12th.  Tickets can be purchased on this link. www.designershowhousesarasota.com
Before
The beige walls did nothing to highlight the beautiful millwork throughout the dining room. The shabby-chic furniture feels a bit dated.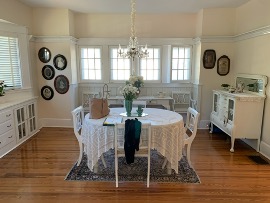 After
Benjamin Moore's "Symphony Blue" makes the walls and ceiling recede and all the beautiful white millwork pop.
Custom Stroheim Drapes, Rug by Stark Carpets, Dining Chairs by Henredon, Dining Table and Bench by Lexington. Console Gabby Home. Chandelier by John Richard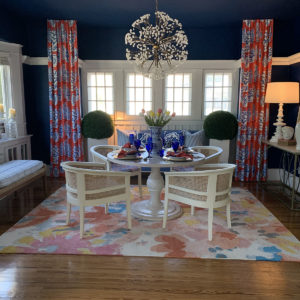 One of the centerpieces of the space is John Richard's Spherical Nine-Light Quartz and Brass Chandelier that hangs above the dining table.  I think lighting is a great place to introduce a little modern into your space without going too starkly contemporary, ditto for rugs. Stark's gorgeous abstract floral rug brings a cheerful modern vibe to the dining room.
https://www.johnrichard.com/shop/AJC-9082?Search=9%20light%20quartz%20chandelier&$MultiView=Yes&orderBy=-CreatedOn,-Id&context=shop-all&page=1
To flank the new reading niche, I had custom drapes made with Stroheim's "Canton" fabric.  This splashy pattern, with big blue and white ginger jars set on a persimmon background, brings color and whimsy and keeps this space feeling happy and cheerful, even with navy blue walls. I had the Henredon Cane dining chair seat cushions covered in Stroheim's "Taj", a sari-inspired smaller print in blues, persimmon and white.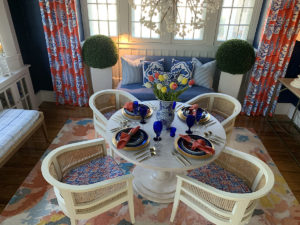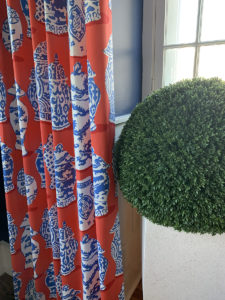 https://fabricut.com/stroheim/wallcovering/4788103/canton/persimmon-blue
https://fabricut.com/stroheim/fabric/7496104/taj/persimmon
The Highland House banquette (done up in periwinkle linen) and Lexington Furniture's "Newport Corona del Mar" dining table and Henredon chairs are brought to life with the playful mix of color and pattern.
Before
The beautiful millwork was lost to the bland wall color.
The bump-out area was under-utilized space and the chandelier was too small for this size room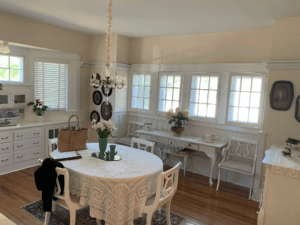 After
Willow & August Interiors created a cozy nook to curl up with a good book or iPad Banquette by Highland House Furniture.  Rug by Stark Carpet.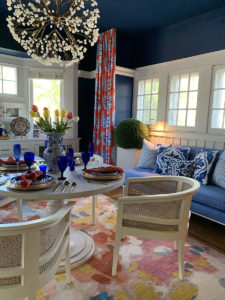 The devils In The Details…
Everything we do for the Designer Showhouse Sarasota is out-of-pocket. We rely on our trades to pitch in, but there are some things we just cannot do within the timespan allotted.  So, while I had to live with a slightly archaic built-in, I was able to dress it up by installing new drawer pulls, having the hinges (that had been painted over) faux finished in a pretty antique brass finish, and then installed a new pendant light to shine above it all.
It Takes A Village…
I couldn't have pulled this room together without the help of many.
International Design Source (to-the-trade design center in Sarasota and where I've leased an office) was kind enough to loan all of the furniture and some of the accessories. I extend a huge thank you to everyone at IDS for their support.
Rugs as Art Sarasota, thanks for loaning the fabulous Stark Rug; the playful mix of colors brighten the room and make me smile each time I walk in.
Bee Ridge Lighting, the fabulous John Richard 9-Light Quartz Sphere Chandelier really is the jewelry of the room and absolutely fabulous!  I knew the second I laid eyes on it that it was "the one"! Thanks so much for donating it to this worthy cause.
Oscar Painting, thank you for donating your labor to this very worthy cause, I'm so appreciative of your help and (as always) great job. Fast, efficient, tidy.  You rock!
Southern Quilters, thanks for discounting the labor to make the fabulous drapes, they are a huge design component in this room and I am blessed to have your talent in my back pocket.
Lonnie Bauler – thanks so very much for getting the drapes hung so beautifully and for installing the new hinges on the built-in.  You're the best.
Mary Fragapane, thanks for faux painting the hinges on the built-in. It was a small detail, but very important to the finished space!