Carte Blanche (Why Designer's LOVE to Donate Design for a Showcase House)
Getting to design whatever you want (without having to consider a partner, husband, or client's desires) is what every designer lives for (at least it's what THIS designer lives for), and why I am participating in the 25th Annual Jewels on the Bay Designer Showhouse Sarasota. The event benefits The Boys & Girls Club of Sarasota County and runs March 15th through April 12th.  Tickets can be purchased on the link below and benefit the charity.
www.designershowhousesarasota.com
This year, I get to design the formal dining room in a 100-year-old home that has had a few updates over the years.  The current owners have moved and are selling the property, which is where the Carte Blanche comes in (YAY).
We don't really use formal dining rooms the way our parents did, so I envision this room serving as a flex space when not dressed up for dining.  It's adjacent (and open to) the only "family hang-out" space in this two-story house, so I think it will serve more than one role for the new owners.
So many of my design clients are gravitating to neutrals (gray, driftwood, taupe and metallic), that I decided to do something super colorful and dramatic for my space in the Sarasota Showhouse. The light-filled room features many windows, so I'm going for drama and sex appeal by painting both the walls and ceiling Benjamin Moore's Symphony Blue, which is a rich navy blue.
By using a darker color, and keeping all the wainscoting and trim moldings white, I've made the walls and ceiling recede while highlighting the beautiful architectural details of the space (details that were lost when the walls were beige).
https://www.benjaminmoore.com/en-us/color-overview/find-your-color/color/2060-10/symphony-blue?color=2060-10
I will be layering in bold patterns that, while more traditional in content, are reimagined for 21st Century living by virtue of scale and color. For the drapes, I am using Stroheim's "Canton" fabric with super big blue and white ginger jars set on a persimmon background, and for the Henredon cane dining chair seat cushions, I am using Stroheim's "Taj", which is sort of a Sari pattern, with a great mix of persimmon, blues and white.
https://fabricut.com/stroheim/wallcovering/4788103/canton/persimmon-blue
https://fabricut.com/stroheim/fabric/7496104/taj/persimmon
This dining room design blends traditional style with modern twists (in lighting and furnishings) and will be oh so fun when finished.  One of the centerpieces of the space is John Richard's Spherical Twelve-Light Quartz and Brass Chandelier that will hang above the dining table.  I think lighting is a great place to introduce a little modern into your space without going too starkly contemporary.  At almost 30" in diameter, this chandelier will be the star of the space both during the day or in the evening when the lights are ablaze.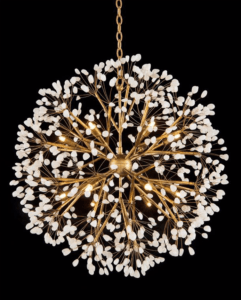 https://www.johnrichard.com/shop/AJC-9082?Search=9%20light%20quartz%20chandelier&$MultiView=Yes&orderBy=-CreatedOn,-Id&context=shop-all&page=1
I am also using a Highland House Furniture banquette done up in periwinkle linen and Lexington Furniture's "Newport Corona del Mar" dining table (funny, as I used to live in both Newport Beach and Corona del Mar California).  I also chose a modern Gabby Home console table with satin brass concentric circle base to complete the main pieces of furniture for the space.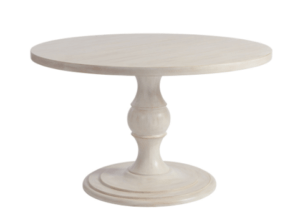 https://www.lexington.com/corona-del-mar-center-table3300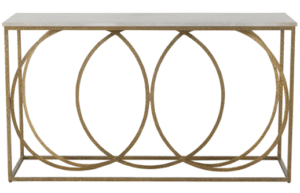 https://gabbyhome.com/products/patterson-console/
I want to save a few surprises, so you will have to wait to see the end result!  This space is a work in progress and not ready to be photographed, please stay-tuned for the "before" and "after" photography the week of March 16th.