How to Create a Kitsch-Free Coastal Interior
Snowbirds abound in the Sarasota area (my parents were snowbirds for years, so I don't mind one bit), and they all want their Florida homes to feel TOTALLY different from their northern abodes.  Many purchase furnished homes teeming with predictable "island" décor that usually includes bamboo or rattan (but in a dated way), palm fronds (on pillows, rugs, or wallpaper) and even upholstery fabrics with little flamingos, starfish or coral all over them.
One of the most common requests I get from my clients is to help them create an interior design plan that feels Coastal without all the kitschy island references.  I don't mind some Tommy Bahama rattan and bamboo furniture, but you don't need to use it everywhere (a little goes a long way) or "guild the palm frond" by layering it with trite coastal symbols like starfish, palm fronds and coral; sometimes less is more.
I recently completed an interior design project for a couple moving their full-time residence from California to Sarasota.  The Sarasota New Construction project took over a year and a half to complete, the desired end result being a home that felt like coastal Florida, but with an understated Malibu design aesthetic.
I spent almost two decades in Southern California, so I understood immediately how to help them achieve their Kitsch-Free Coastal Interior. This wonderful couple didn't want to feel like they were still in California; they wanted their new home to feel like Florida, but in an understated way.
THE KEY ELEMENTS – CABINETRY, COUNTER TOPS AND RANGE HOOD
The kitchen itself is a sleek transitional blend of white perimeter cabinetry and a dark (grey-brown) island cabinet – all topped by light quartz and a pearlescent backsplash with watery blue and driftwood tones.  The cabinets with their beautiful glass fronts and the custom hood would be at home anywhere in the United States; it's the lighting, backsplash and furnishings that infuse the coastal feeling into this home.
UPDATED COASTAL DINING
For the kitchen and dining nook, we chose the Palecek Capitola Dining Side Chairs and the Capitola Counter Stools because we loved the clean modern shape of them paired with the organic texture of their rattan, sea grass and rope construction. We had their old dining table refinished in a watery blue color, which is offset beautifully by the organic nature of the dining chairs.
http://www.palecek.com/products/750501/F/02/02/CAPITOLA-SIDE-CHAIR
http://www.palecek.com/products/712701/F/02/01/CAPITOLA-24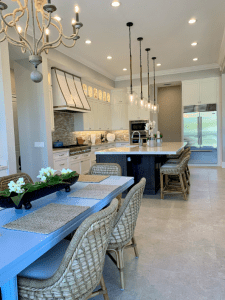 COASTAL LIGHTING
The lighting was another place where we added organic coastal texture to the space. We fell in love with Regina Andrew's Jute Chandelier for above the dining table, which paired beautifully with Regina Andrew's Hammered Glass Pendants with their understated rope cords.
https://www.reginaandrew.com/Jute-Chandelier
https://www.reginaandrew.com/Hammered-Glass-Pendant
As with most homes being built today, this open concept home needed two fabulous chandeliers for the 14' beamed ceilings in the great room.  The fixtures had to speak to the lighting in the adjacent kitchen and dining areas, while being able to hold their own while hung from these volume ceilings.
We turned to Regina Andrew Lighting again, but this time selecting her Wooden Quatrefoil Chandelier.  The driftwood tones and dark bronze details of the fixture dovetailed beautifully with our other lighting selections, without adding more rope or jute.
https://www.reginaandrew.com/Wooden-Quatrefoil-Chandelier
FINISHING TOUCHES
With all the neutral backdrops (flooring, wall color, cabinetry), my clients wanted to infuse some of the beautiful blue tones from the water views right outside their windows, so we selected a beautiful mix of Century Furniture's blue upholstery fabrics, and mixed in neutrals (greys and browns) for the cocktail table, end tables, floating shelves, built-ins and paired it all with neutral chairs.
Interior Design and Photography courtesy of Caroline von Weyher, Founder/Interior Designer, Willow & August. All rights reserved.