I'm working with a great team of guys who are helping me with the Willow & August Interiors website.  They have given me a few "homework" assignments, so I spent much of the weekend going through photography of my interior design work from the past decade, and I realized something. Good taste never goes out of style, and good bones are good bones.
If your house doesn't have "good bones" then it just needs a little "design surgery".
In today's blog, I'm featuring a renovation I did eight years ago, creating a Farmhouse look out of a builder-grade house.  The point of pulling an older project, is to show that good taste never goes out of style (duh). How ironic that Farmhouse architecture is all the rage today?  How ironic that Sherwin Williams has chosen "Naval" as their color of the year for 2020? We used this romantic shade of blue in the Farmhouse master suite in 2012! Good taste never goes out of style!
https://www.elledecor.com/design-decorate/color/a29194904/sherwin-williams-color-of-the-year-2020/
https://www.swcolorforecast.com/coty/2020/
In 2012, we added good Farmhouse bones to a builder-grade home by adding the following elements:
-Wainscot in dining room and master bath
-Wood floors throughout all common areas
-A new fireplace feature in the master bedroom
-Chunky (tall) baseboards
-A window seat area in master with wainscot beneath
-A freestanding tub in the master bath
-Crown moldings
-Refinished all the solid interior oak doors to crisp white, new hardware and hinges.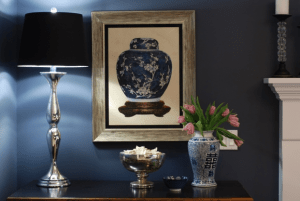 Sherwin Williams "Naval" in the master with black, white and metallics. 2012 Caroline von Weyher Interior Designer.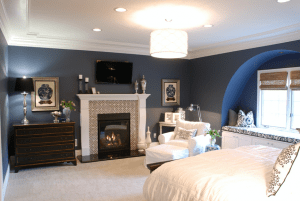 Over the years, I've taken your average house and elevated it by starting with "the bones".  Removing short baseboards and adding nice tall baseboards, adding wainscoting to boring drywall in hallways, bathrooms, dining rooms, living rooms or staircases, adding beams (real or faux), adding crown moldings, bigger flat casings around interior doors, putting in French doors in lieu of sliders, adding new flooring, new windows (if necessary) and quite often total renovations of bathrooms, kitchens, exteriors and interiors.  It all starts with the bones, and in resale you'll get your money back. People care about the bones.
Throughout this Farmhouse remodel, we replaced all the baseboards, refinished the existing golden oak interior doors to crisp white and replaced door hinges and hardware, we added wainscot in several rooms, added new Brazilian Koa wood floors throughout main living spaces, gutted the kitchen and the master bath, updating both with Shaker cabinetry.  Good taste never goes out of style. I liked the clean lines of Shaker cabinetry eight years ago and still love them today.  Ditto for wainscot and crown moldings.
The master bath was dated and had a huge (pink tiled) built-in bathtub and a very small shower. We created good bones by removing the built-in tub, adding a freestanding Kohler bathtub, creating a larger marble shower with frameless glass, and layered in wainscot, new Brazilian Koa wood floors, chunky new baseboards, a new vanity with Shaker cabinets, and black granite (a classic crisp look). This bathroom is still in style today, and will still look great several years from now.  Good taste never goes out of style, and good bones are good bones. Start with the bones.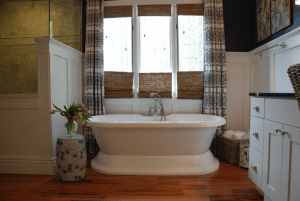 Caroline von Weyher, Interior Designer.
Sherwin Williams "Naval" above the wainscoting was on-trend in 2012 and is now Sherwin Williams color of the year for 2020!
https://www.swcolorforecast.com/coty/2020/
A good trim carpenter can help you with wainscot, but if you are handy (and very precise with your measuring) there are many websites that sell architectural wainscot such as Architectural Depot.
https://www.architecturaldepot.com/wainscot-paneling.html
For the 2012 Farmhouse renovation project, we also had the builder add wainscot and beef up the existing crown molding in the casual dining room. This "design surgery" elevated the look of the dining room immediately and gave the space some character. This younger couple wanted to keep the existing furniture and light fixture – which was no problem, because it's all about the bones. The new wainscot, new wood flooring, super cool black & white bohemian-chic wallpaper (still very on-trend), and the raspberry ceiling was transformative. This room was done in 2012 (almost eight years ago) and still stands the test of time today. It's good bones baby, good bones. Their old farmhouse dining table could be swapped out with something more current today, but the bones of the room are still right on-trend.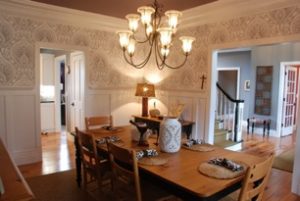 For the same 2012 Farmhouse project, we did a partial renovation of the kitchen (which had dark brown cabinetry, and tan granite counters). We saved money by keeping the existing footprint of the kitchen, but replaced all the old cabinetry with clean white Shaker cabinets, black granite (a classic that will never go out of style), a farmhouse sink (still very much on-trend today), mercury glass pendant lights, and a super cool hand-pieced glass backsplash that made the room.  This kitchen is still very on trend. Good taste never goes out of style and classics (wainscot, crown molding, Shaker cabinetry) will never go out of style. Good bones are good bones!